SmartURL was bought out by Linkfire, and since then many users haven't been happy. Once a free Smart Link service, now creatives have found their content has been migrated across to a paid service. Not only that, but the product features themselves are causing concerns.
Linkfire bought our SmartURL, must to the dislike of their consumer base. Since then, they've introduced new tools and adapted their features. However, Linkfire isn't a free platform. They charge a monthly fee to use their products. So, are you getting your money's worth? Going from SmartURL who offered a free plan, to a paid product – you'd expect great things. Unfortunately, it seems many users aren't happy with the switch.
Not everyone has the funds to market their work, and the industry is aware of that. Why then, are companies still charging for their products with no free alternative? It seems Linkfire have also been known to include adverts within their links, which defeats the point. Why are you promoting someone else's work in amongst your promotional material? Recently, their platform has been updated and features have been added or altered, but, is it enough? We're going to look into these updates and see if they're worth the price.
Linkfire's "next-generation" Bio Link
Since acquiring SmartURL, Linkfire have made some changes. The most recent have found them branding their Bio Links as a "next-generation" product. This statement is due to their new design customisation elements. Looking further into these updates, it seems they have some great new features. However, some are options that should have been added before now. Is it enough to win back the disgruntled SmartURL users? Below is a breakdown of their new additions:
Live preview – You can see exactly what your bio link landing page will look like before it's published
Image blocks – They have been redesigned to add more engaging visual elements to your landing pages. You can now add URLs to make images clickable and have several new formatting options.
Video blocks – Showcase a music video, interview clip, or tour highlights in just a few clicks.
Link blocks – "Want to track clicks and drive more traffic to your website, giveaway, or merch store?" Link blocks can increase your click-through rate.
Social blocks – "Do your Instagram followers know that you have even more great content on TikTok? It's always a smart idea to cross-promote your social media channels." Social blocks make it easy for fans to follow the artist on their favourite of 16 different channels.
Email blocks – Fans can directly share their emails on a bio link landing page, without having to redirect them elsewhere.
Information sourced here.
PUSH.fm's features
So, how does PUSH.fm compare? Well, to start with, we offer a completely free plan. No catch, no hidden fees. Our free plan is completely that. It will remain that way too, we have no intention of ever adding in a compulsory payment to use PUSH's tools. We created our platform with content creators, small businesses and musicians in mind. We understand the struggles that come with marketing your work and wanted to provide our users with the tools they need to market themselves effectively.
The tools we offer for free are unlimited. You can access the same level of product as you could with our Premium option. The only difference is, our Premium users are able to use extra tools with their upgrade. Our Premium plan is $5 per month, which compared to Linkfire is a steal. Linkfire's tools start at $10 per month. This is for their basic, beginners plan. Their price then increases depending on the tools you require. So, for beginners it could get pricey. However, with PUSH, we recommend you start out with our free plan first to see if you enjoy it.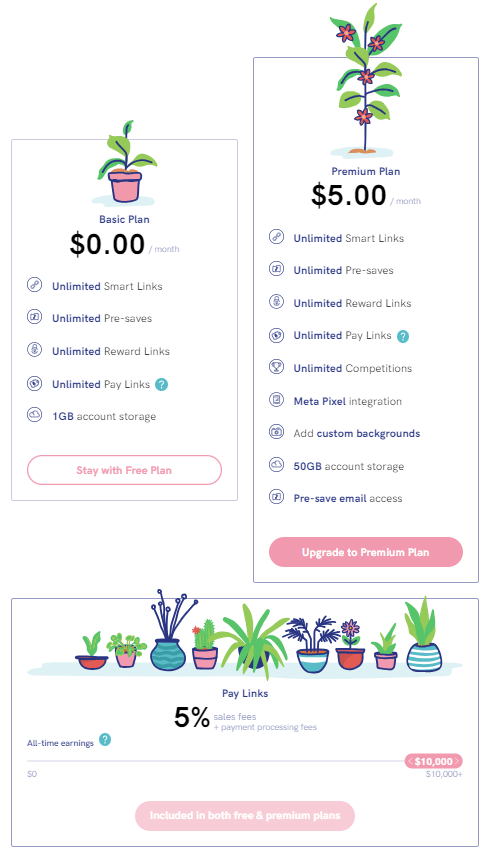 Stand out features
Unlimited Pre-saves, Smart Links and Reward Links – Both our free and Premium plan offer this.
Live viewing of landing pages – This is a feature we have always included. You can view how your landing page will appear.
Fast support times – Our team's response time is exceptional. We always aim to reply to any issue you may have within 48 hours.
Premium plan is great value – For just $5 a month, you also get access to Competitions, Facebook Pixel and more storage.
Multiple template options – We offer various Smart Link templates for you to choose from, or you can create your own from scratch.
Completely customisable – Our links can be edited to add in your own artwork, logos, links, descriptions, titles – you name it!
Analytics – We offer in depth analytics which can help you improve your marketing plans.
Since the merge of the two companies, many users haven't been happy. This is where we believe we can offer an alternative. With offering a completely free plan, we empower our users with the tools they need to create themselves a marketing plan that works. We want to see everyone succeed and understand how hard it can be to find your break within your chosen industry. Instead of forcing a cost on people for a product, we're continuing to expand our list of free tools.
Updated with new pricing tier on 14th September 2023. No other information has been altered.