Want a source good-quality, varied and affordable royalty-free music to use in your videos, live streams and projects? We've got just the place…

Synchedin is the new kid on the sync-licensing block. It's the new go-to resource for YouTubers, live streamers and content creators needing affordable music to use in their projects. Unlike other competitors, Synchedin ticks all the boxes when it comes to affordability, variety and customer support (including Content ID claim support).

What is Synchedin?
Synchedin is our partner site, offering subscription-based sync licensing for anyone wanting royalty-free music. With a subscription, you can unlock unlimited downloads of a huge catalogue of tracks and high quality sound FX to use in any kind of project or video.
If you want to see what the hype is about, you can browse Synchedin's full library of music and FX completely free. Their filtering options means find what you need quickly and efficiently. Filtering options include:
Whether it's an instrumental or has vocals
Each track is listed with a title, the artist name, length and BPM allowing for further ease of finding exactly what you need to suit your project.

How big is their catalogue?
Synchedin currently boasts over 2500 music tracks and over 2000 SFX. More and more is being added on a daily basis so you'll never run out of songs to use.

What can I use the songs for?
There's no limit to the kinds of projects and applications you can use the music and sound FX in (as long as it doesn't infringe on their terms of use); examples include:
YouTube videos
⌨ Online promos
Films

Live streams

Adverts

Showreels
Synchedin also offers full claims control on YouTube Content ID, Facebook and Instagram. This means that any claims that occur on your channels can be cleared quickly and easily.

How much does it cost?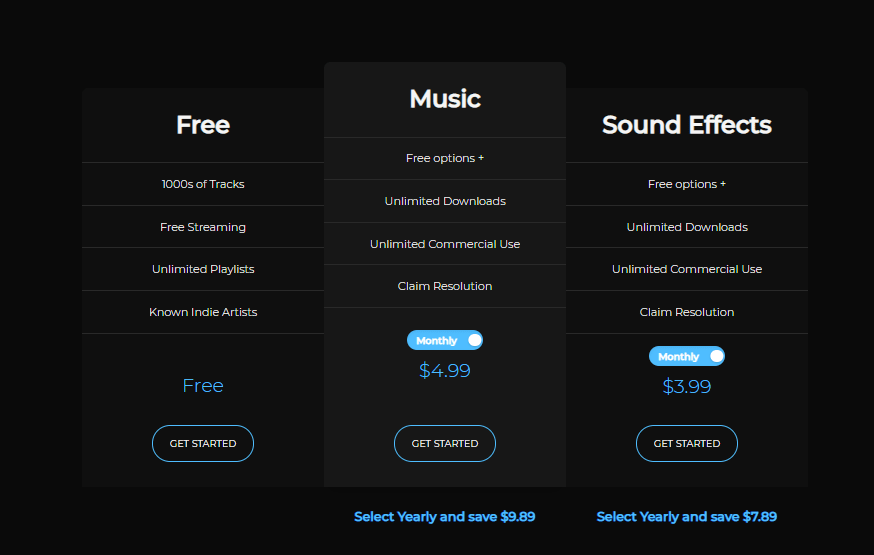 Get access to their whole music catalogue for an incredible $4.99/month or $49.99 a year. This gives you unlimited downloads of music that you can use for any commercial or non-commercial projects.
A simple sound effect subscription will cost only $3.99/month, perfect for video creators needing FX for their video creations and projects.
Click here to get started and find the soundtrack to suit you.