Competitions are a Premium feature. Those who have paid to upgrade their account from our free version to our Premium subscription can access this feature.
Competitions allow your audience to become a winner through your Competition. You set the rules on what actions they must complete, and they get to enter for free. Everyone's a winner because you could boost your social media followers or perhaps your music listeners, and your audience have the chance to win something.
Making a Competition is easy to do. It's something that attracts a lot of new faces, because everyone loves being in with a chance of winning. It's important to note though, you are responsible for selecting your winner and sending them the prize.
Interested in making your own Competition? Here is a step-by-step guide to building one through PUSH.
Head over to the pink plus icon in the top-left corner of your PUSH dashboard. Select Competition from the list. Add in your Competition title – this is what your audience will see when entering so make it catchy or relevant to your branding.

Then add in details of your Competition – how it will work and so on, just like a description. Make sure you customise your URL on this page too. Either naming it after your brand or new products. This will ensure your users know what your links about.

You'll need to select an image for your Competition that represents you, or just something you find fun and engaging. The most important part is choosing the end date. This is when you'll be able to collect all the entries and pick a winner.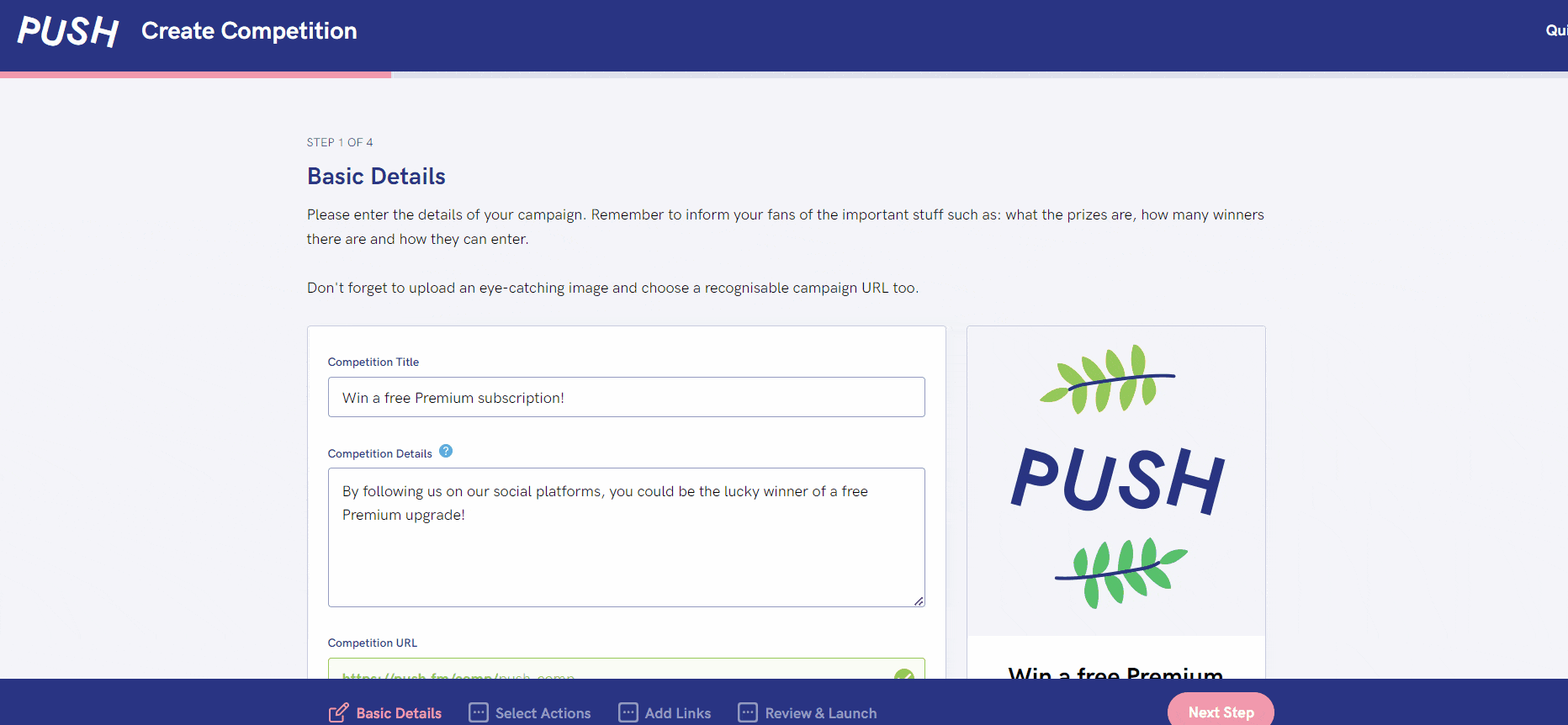 4. After this, you'll want to add in your actions. You decide what tasks must be completed to enter the contest. As a music artist you might get people to follow your streaming profiles. However, as a brand or content creator, maybe you want them to follow you on social media accounts.

5. Add in the relevant accounts they need to follow. Each platform has different options. For example, on Twitter you could either; follow, retweet or tweet – it's up to you which one you ask them to do.
Please note we cannot make anyone complete certain actions – Instagram and YouTube both do not allow this. Instead, people clicking on these options will be directed to your account within the sites and therefore are likely to follow through with the action.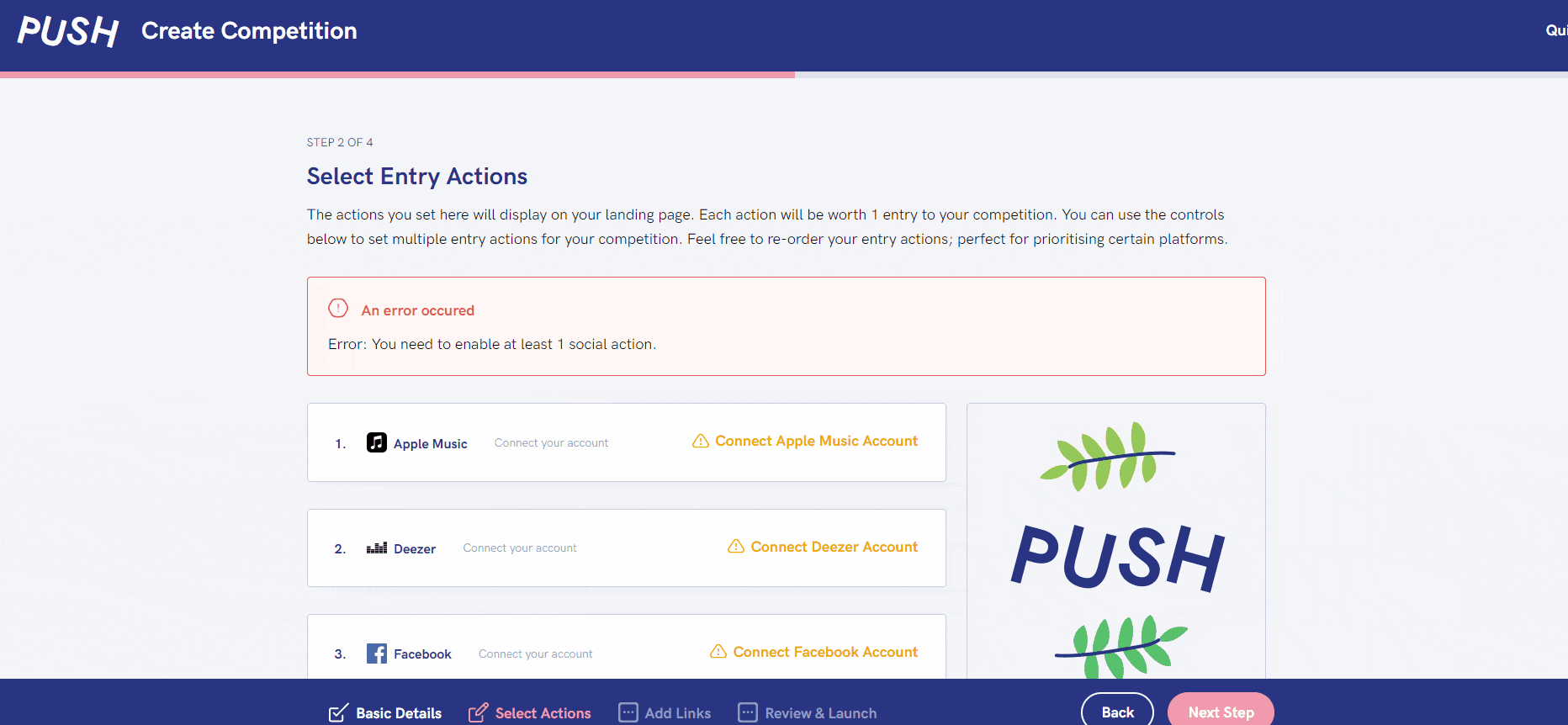 6. The final step is adding any extra links. This is optional, you don't have to complete this if you have nothing more to give. It's a great place to put in a website link you may have, or some links to videos on your company/products. Maybe you even have a little promo video for your new products they could win, and you want to show that.

7. These links will remain at the bottom of your landing page throughout the process. From the start when they're first selecting their entry option, to once they've completed the task(s). Even once the Competition has closed, you'll still be able to see these links. Once your link looks great, you can simply launch it!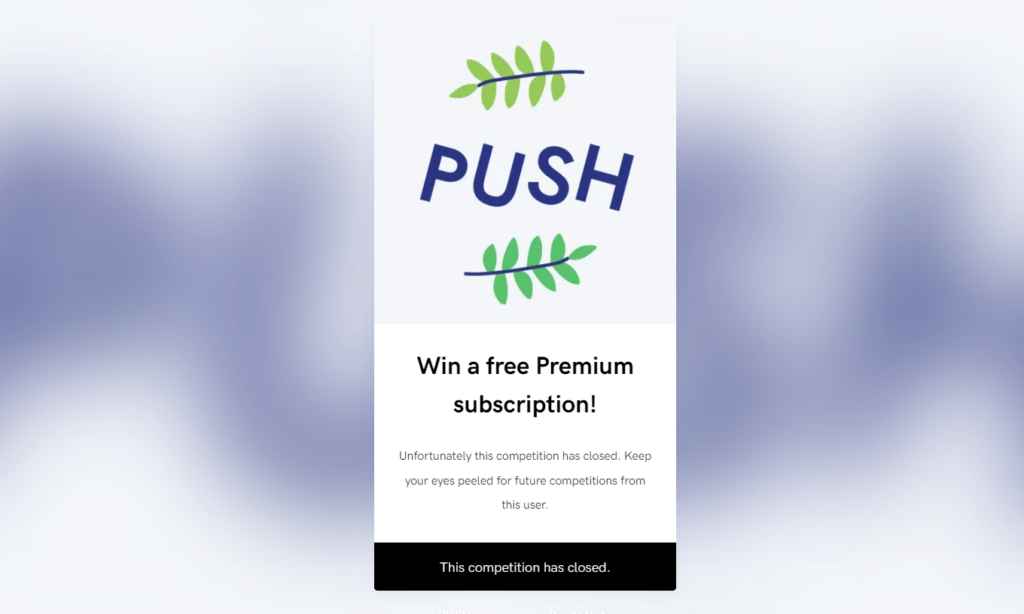 8. Once your Competition has come to an end, you'll see the view above, showing it's ended. This will inform your audience that they can no longer enter. From here, it's your job to select your winner. To do this, you'll need to head to your PUSH account and go to your dashboard.
9. You'll see a pink button that says Select Winner. Click on this and a CSV file will automatically download for you. This will hold all your entries. Any duplicate entries will display. As, remember if people have more than one account they can enter from then they will appear multiple times.
10. It's up to you from here! Use a random generator and put in all your entries. Then let it decide your winner. You'll need to contact the lucky winner and arrange to have their prize delivered to them. Once it's completed, you could start thinking about your next Competition!