Sometimes your links get a little outdated and need a spruce up. No worries, you can easily edit any of your PUSH.fm links at any time. Change your URLs, artwork, description. You can even turn the stores selected on or off.
Please note: You can edit all of your PUSH links. It is the same process. We have given examples for one type of link. However, these steps apply to all of your PUSH links.
We've updated the link above previously. When we first made our TikTok account, we needed to add the URL in. It's easy to do and won't affect your current links. Whether you want to add or remove stores, or change the logos around. It's your choice.
It could be you want to regularly update your Bio Link and want your audience to see your latest work each time they click on it. If that's the case, it's unlikely you'll want to keep your artwork the same. Instead, you'll want to be adding and changing your content often.
The same goes for music artists. Maybe you want to have your latest music video as your YouTube link. If that's the case, each time you make one you'll need to change your URL. Updating your links as you go ensures you're relevant and engaging.
Here's how to easily edit your links
1. From your dashboard, head to the taskbar on the left-hand side of the page. Click on whichever feature your link falls under. For example, we are editing a Smart Link, so we would head to our Smart Link section which is the top icon. Remember though, you can edit any of your PUSH links. This applies to all of our tools.
2. Find the link you want to update. If you have a lot of links, you might need to scroll down the page to find the relevant one. Once you have found it, click on the ellipsis (three pink dots) on the right-hand side of your link.
3. You'll see a pop-up of options. At the top it will have the option to Edit Link. Click on this, and it will take you to edit your link. All pages will appear the same as when you first created your link.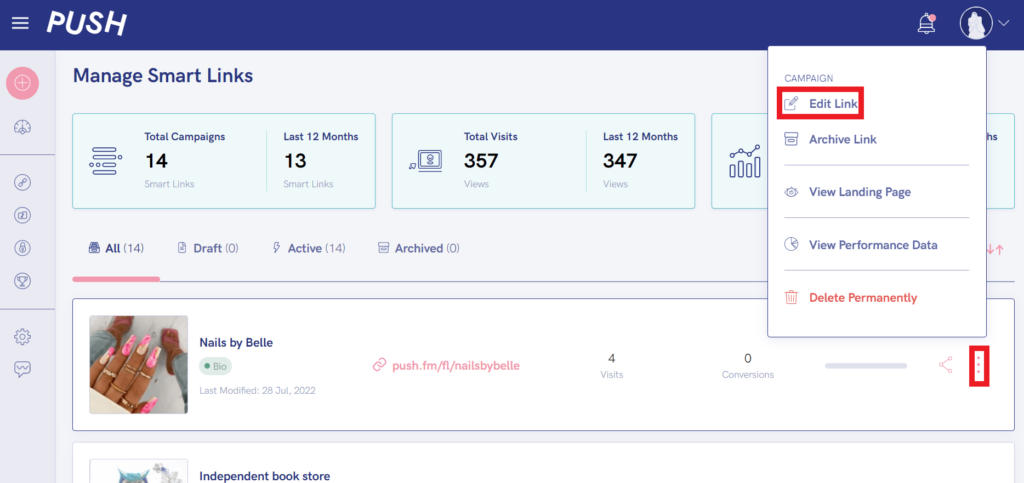 4. Make any relevant edits you need to. You can change your link name, the artwork, your description. Anything about your link you want to edit, can be done. The links included can be toggled on or off too. So, if you had your Facebook page as an option, but that's no longer in service, you can switch it off.
5. Double-check your link again and make sure you've made all your relevant changes. You will again see a preview of the link on the right of the page, so you will know how it will appear. Make sure you save your link once changes have been made, and it will update immediately.